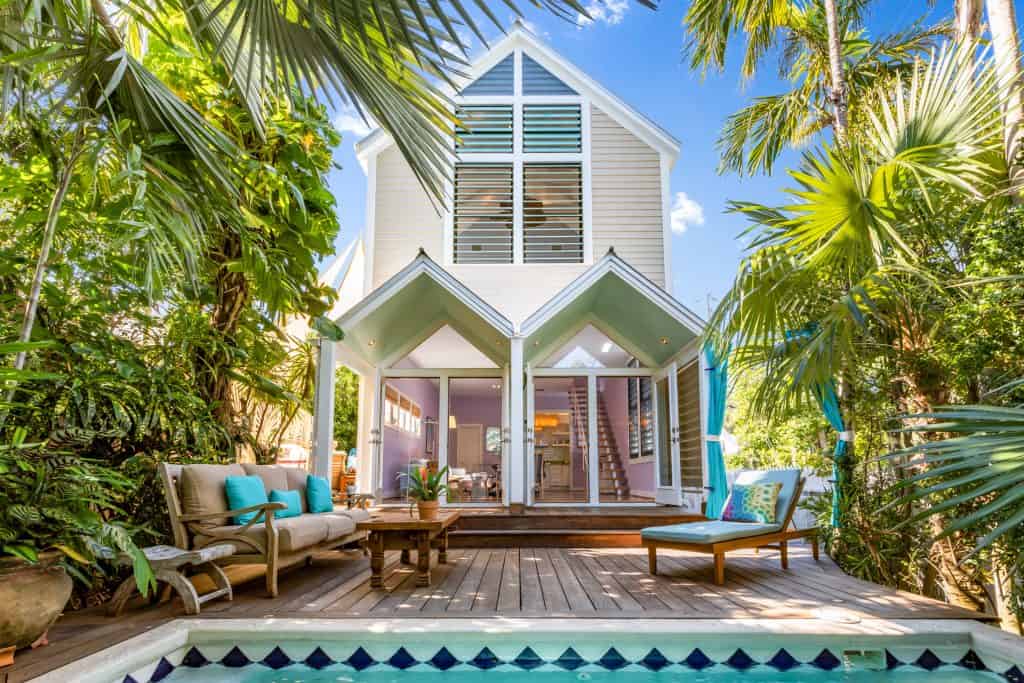 701 Elizabeth Street is an iconic, architecturally designed residence located at the highest point on the island in Old Town Key West, also known as Solares Hill. Solares Hill is a BIG DEAL to locals and homeowners! With the 3 story structure reaching for the sky, it also boasts piece of mind knowing that you are 18 feet above flood when the average home elevation in Key West is roughly 5 feet. Living in Key West also comes with "baggage!" We aren't talking about suitcases; we are talking about your friends and extended family! (Even people you haven't talked to in over a decade!) Once they find out you have a home here, all bets are off!
If you anticipate having company, this home may work for you more than you can imagine. The legal three-story guest house could serve as an excellent private suite for your company or an income producing rental. Everything is separated from the main part of the house so your company can come and go uninterrupted! Designed by renowned architect Thomas E. Pope and built in 1984, this tropical home includes a beautifully updated 2-story residence including two bedrooms and two bathrooms, as well as an attached 3-story, one bedroom and one bathroom guest house with soaring 26 foot ceilings. Well sited on a corner lot at the highest point on the Island gives the homeowner the best all around location on the in Key West! Whether a person has their own boat, wants to walk or ride their bike everywhere, and/or enjoys dinners in Old town, this is THE location.
Additional links and resources:
ARE READY FOR YOUR NEXT BLOG? CLICK HERE
THIS POST APPEARED FIRST ON TEAM KAUFELT.