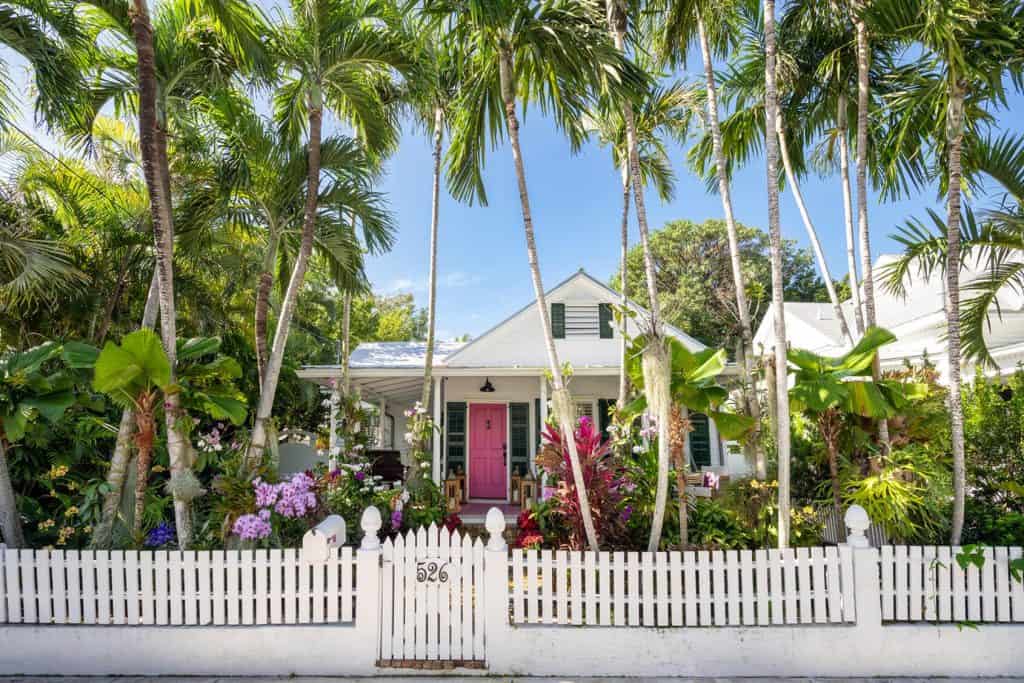 The Orchid House at 526 Frances Street is a luxurious property situated in the charming heart of Key West. This property has been labeled Key West's Most Instagrammable Home. Featuring lush and vibrant grounds, this picturesque paradise provides locals and visitors alike with an opportunity for unforgettable photos. The front porch, private courtyard, and heated pool are all surrounded by fragrant orchids and tropical palm trees. This house is a must-see! Its colorful exterior stands out from the rest, with eye-catching shades that capture your attention. The lush gardens surrounding the property are one of the most admired on the island.
Inside of this unique home is where its true charm shines through. Rich wood floors, elegant furniture, and creative touches add up to a home that can't be found anywhere else. Get ready to be wowed by this special place—it's truly one-of-a-kind!. An absolute showstopper, this stunning real estate property is guaranteed to catch eyes with its pink door and unparalleled orchid garden—not to mention it's been featured on Instagram stories and accounts from influencers around the world who appreciate its unique charm. But beyond appearances, this island abode offers all the charm you'd expect from a historic home, plus modern upgrades throughout.
Explore how each room of this historic home has been thoughtfully crafted with natural materials and colors that reflect its Caribbean vibe. This exquisite historic home is a dream come true for interior design aficionados. Each individual room has been meticulously crafted with natural materials, lending an authenticity and character to the overall design. On top of that, the vibrant yet subtle color palette does well to capture the unique Caribbean vibe of this home. Everything from the furniture to the walls has been carefully curated to provide a visual harmony and an inviting atmosphere.
When visiting Key West's Most Instagrammable Home, don't forget your camera! This incredible property has a huge variety of beautiful flora and taking your own picture of the plants is the perfect way to capture the moment. Luckily, some tips can help you get Instagram-worthy photos with ease. Firstly, keep your lens clean for clarity. Secondly, adjust accordingly if there's too much white light and be sure to fill in shadows. Thirdly, play with different angles and depths of field – you might find surprising beauty in an unexpected zoom or focus. Lastly, snap lots of pictures so that even if one isn't perfect, chances are one will be! With these basic photography tips, your experience and photos will live on as a memorable image.
Don't miss this exemplary display classic Victorian era architecture – the perfect space to relax, refresh and reinvent yourself. From its vividly hued walls, to its intricately detailed interiors, there is something special about this idyllic property that will bring out the creative artist in you. Take a moment to appreciate the beauty of Key West through The Orchid House's unique perspective. Let your imagination be your guide as you explore what makes this house so distinctively charming. If you're looking for a space to capture your own special postcard-perfect shot, then we highly recommend that you take a visit here. So why wait? Enjoy a leisurely stroll through Old Town while taking in all of the peaceful sights, sounds and smells around you – creating memories that will stay with you forever.
View this post on Instagram
READY FOR YOUR NEXT BLOG? CLICK HERE
THIS POST APPEARED FIRST ON TEAM KAUFELT.